Blog

/

5 Essentials New Yorkers Never Leave Home Without
April 11, 2018-Lara
We're always dreaming of lazy days in Central Park, walking the city sidewalks at night under a blanket of lights and petting all the Frenchies along the way. And we can't help but crave the fresh style of a New York City woman just as much as we're craving whatever trendy new food creation she's having for lunch.
For this reason, street-style icon Babba C. Rivera has styled five looks that not only prove that dressing like a New Yorker isn't just about wearing head-to-toe black (though, of course, some black must be involved) but also show you that five essentials are all you need to channel the city's effortlessly chic vibes.
Oh, and having a sweet four-legged sidekick never hurts, either.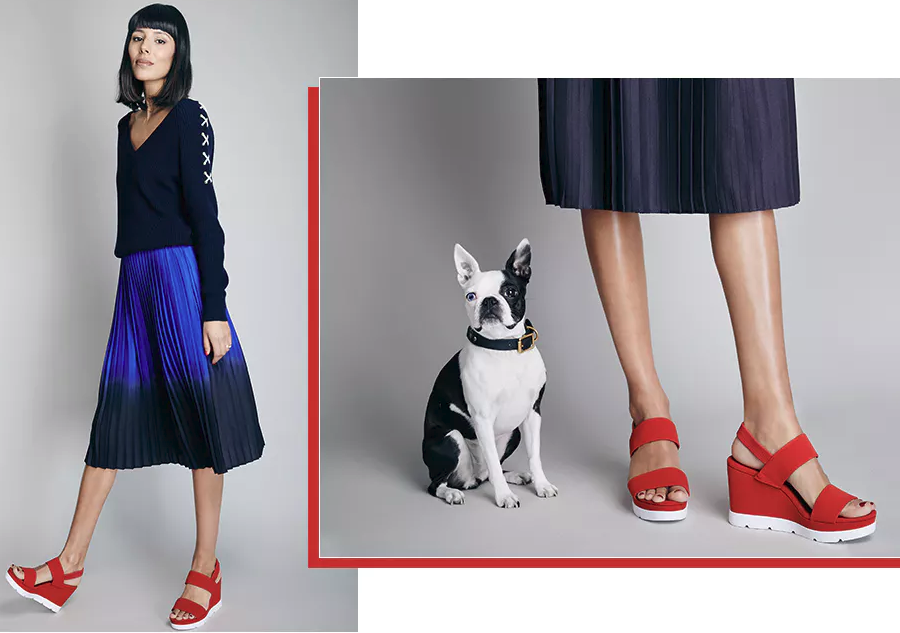 HEELS YOU'LL ACTUALLY WANT TO WALK IN
It's true that wedges are a city girl's best friend. Take a cue from Babba and wear them in a mesmerizing color (like this bold red that keeps the shoes from feeling too practical). Pair them with a midi skirt from the opposite side of the color wheel for a coordinated but striking look. An easy yet eye-catching outfit like this one is cute and comfortable enough to wear all day long—a magic formula every New Yorker always has in her back pocket.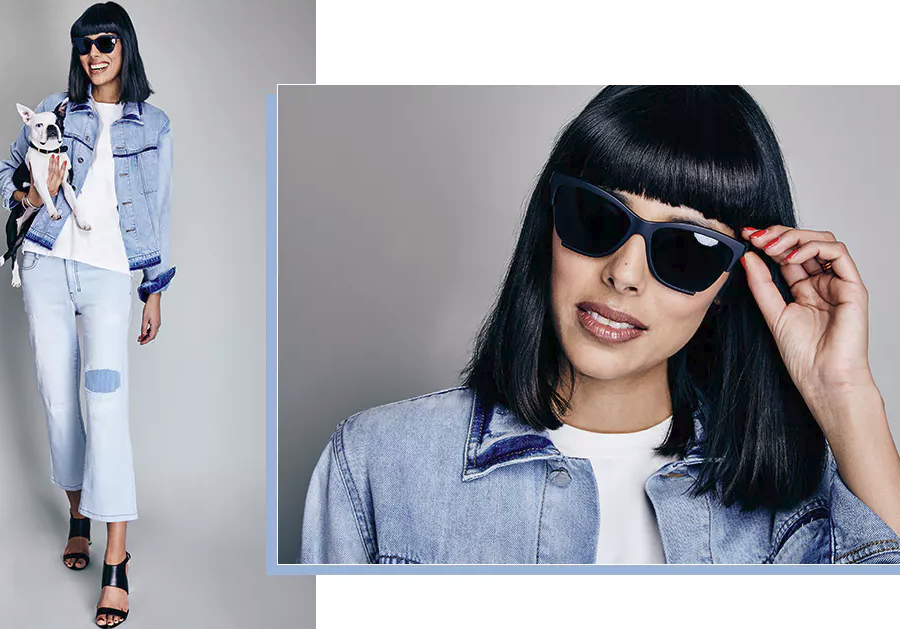 SUNGLASSES THAT PULL AN OUTFIT TOGETHER
Living in the city means the majority of your time is probably spent en route. So a chic pair of sunnies to protect you on the go is a nonnegotiable. And while versatility is key, Babba's ultra-stylish pair is proof that changeability most certainly does not equal boring. One thing every NYC girl knows: The bolder the glasses, the better to brunch.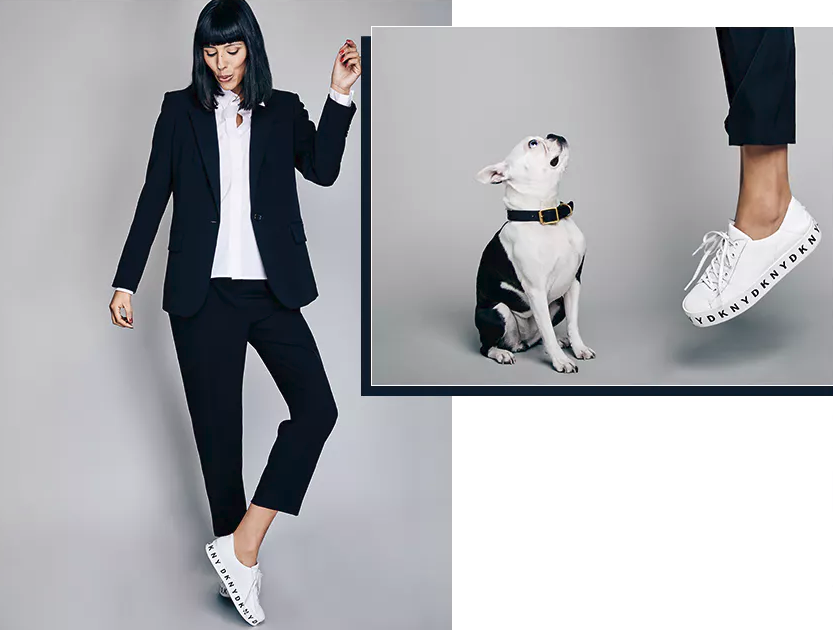 SNEAKERS THAT DO ALL THE TALKING
Honestly, this entire outfit speaks to us. But it's the platform sneakers that are making a true NYC statement. Paired with snappy suiting (take note of the shape of those cropped trousers), they keep this polished look feeling all kinds of cool and not at all corporate. Babba's outfit masterfully mixes casual and formal pieces all in one look, a style NYC girls practically invented (here's looking at you, commuter shoes).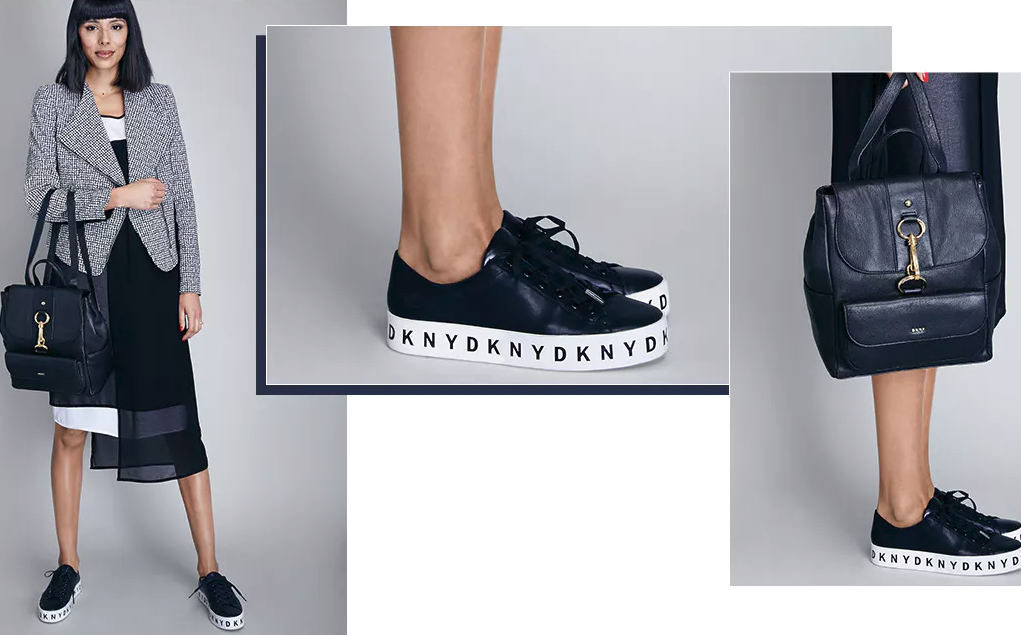 AN ELEVATED BACKPACK FIT FOR THE OFFICE
Feast your eyes on this chic little bag that's stealing the spotlight on Babba's already incredible look. Skipping through crowds, weaving through the subways and navigating the line at the juice bar are all done easier with a sleek backpack. A cool blazer, an asymmetrical dress and black sneakers are a great base for this NYC essential that is a perfect marriage of wearable and unabashedly chic.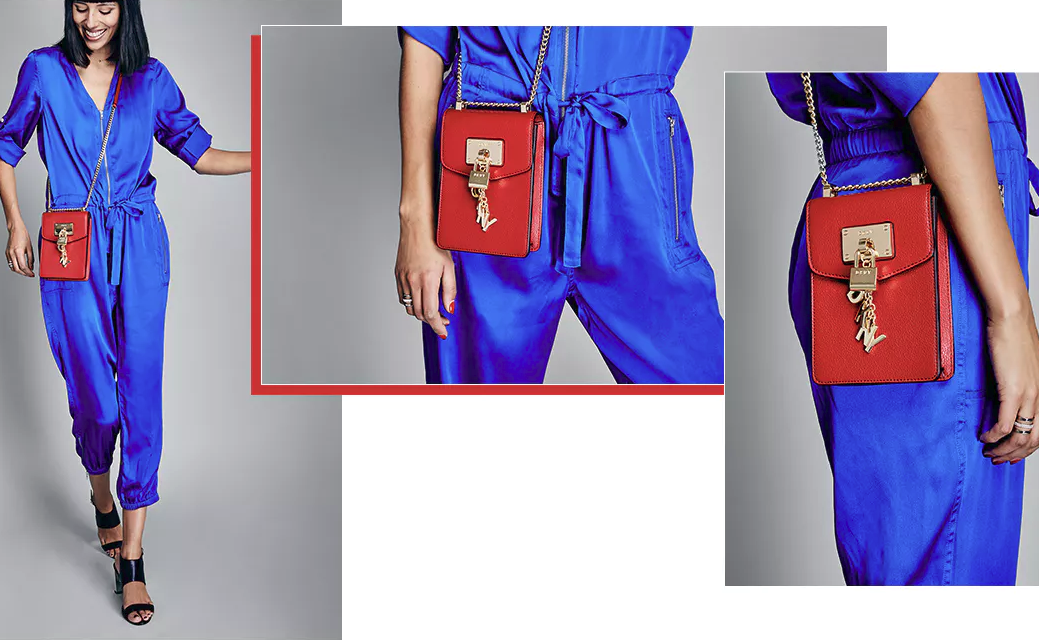 A MINI CROSSBODY THAT KEEPS YOU HANDS-FREE
For the nights (or even days) when you can't be bothered with a tote, a sleek crossbody bag is a New York staple. Besides, all you really need are your phone, MetroCard and multistick anyway, right? Babba's bold look takes it a step further by going high contrast. Her gorgeous cobalt jumpsuit makes her bright-red bag stand out even more, showing off all its fun little details, like the elongated shape and cute metal charms.
---