Blog

/

Body Positive Shopping Tips For Buying A Swimsuit
March 12, 2018-Lara
A Californian inspired and designed swimwear brand, Cupshe has captured the imagination of women all over the world since beginning in 2013. Born out of a deep affection for the simplicity of beach life and the love of traveling to exotic regions, Cupshe marries aspirational elegance with affordable fashion to create swim collections designed to inspire you to live life on the beach.
They hold fit, fashion, fabrication and function paramount in our design and production processes. Their goal is to inspire confidence and beauty with refined and affordable swimwear. They strive for timeless elegance that flatters every body.




You can always expect amazing prices, premium quality fabrics and flattering silhouettes for every body. Here are some tips to help you feel as cute as you look this summer.

1. Be Realistic
What are you actually going to use your suit for? You're going to be looking for a whole different suit if you're searching for something to SUP in, play beach volleyball in, swim laps, or just lounge by the pool. Figure out what your favorite summer activities are and go from there. Sure, a bandeau top is going to look so cute and prevent visible tan lines — but if you're planning to hit up the water park a bunch of times, you're probably going to end up flashing a bunch of people. Be smart!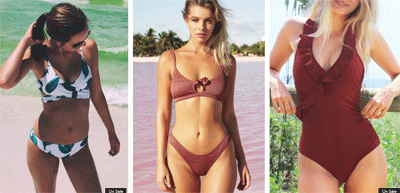 2. Think About Your Body Honestly
Sure, wearing a fatkini is a nice goal to have for yourself or wearing a low-rise plus size bikini or a tankini or whatever it is that you've always wanted to rock on the beach. I'm all for pushing our boundaries when it comes to what we feel like we're allowed to wear, but if you're not comfortable and feeling confident in what you're wearing, then you're never going to wear it.
Why buy a cute suit and then have it live in a rumpled ball in your closet? What's going to be the happy medium between those two? What's considered "ideal" or "pretty" by the mainstream shouldn't dictate how we feel about our bodies, but it can and it does. Show me a person who is 100 percent content with how they look at all times and I'll buy you an ice cream cone.

3. Think Outside The (Big) Box
While there are millions of different ways to have a body, there is generally only one particular make of each swimsuit design. Womp womp, sad trombone. This means to find the perfect suit, you're probably going to have to search in more than one place to find something that suits your unique bod.
Some good places that you may have overlooked: Specialty swimwear shops outside the mall, online independent companies like Nettle's Tale's body-positive swimwear, vintage shops (have a seamstress or tailor replace the lining), and sporting goods stores.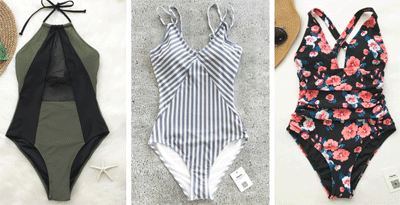 4.Know Your Body's Actual Shapes
Understanding your body's curves and edges is beneficial when trying to asses what shape or silhouette of suit you're looking for. When people tell me they're "pear shaped" and can't find a suit, I always ask what being pear shaped means for their body. Often we find the problem is that they can't find something that fits over their hips and thighs without gaping in the waist. See how that's a much easier problem to solve than thinking your whole body is causing you trouble?

5. Embrace Separates
If you're having a hard time with the matching tops and bottoms thing because you can't seem to find something that's just right for your chest that's not just sagging off your butt at the same time, turn to two separate pieces. You don't just have to put things together because a store tells you to or wear two things in the same size, even! Find something that fits and that you think looks great, even if it means having pieces in two different styles, sizes, or from two different stores. Rules? What rules?

---